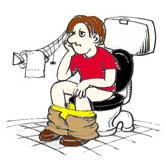 Several can be recommended as part of an evidence-based approach to treating irritable bowel syndrome (IBS), according to researchers from the University of Ottawa in Ontario.
Fiber
Overall, studies indicate improvement of global symptoms, especially constipation.
No improvement in abdominal pain.
Peppermint oil
3 to 6 enteric-coated capsules daily (0.2 to 0.4 mL) improve symptoms.
Don't chew the capsules, they're enteric coated to prevent gastroesophageal reflux.
Nausea and burning around the anus and are occasional side effects.
Safety during pregnancy isn't known.
Herbal formulas
Combining herbs is common.
Tong xie yao fang (TXYF) is possibly effective, but studies are of poor quality.
Padma Lax was better than placebo in 1 study.
STW 5 and STW 5–II significantly aided digestion and improved pain and symptom control in 1 study.
A Cochrane review concluded that certain formulations of TXYF, Padma Lax, and STW 5 improved global symptoms.
Adverse events occurred in 3% of patients — none serious.
Higher quality studies are needed to clarify the role of herbal formulas.
Probiotics
Patients should be encouraged to eat more probiotic-rich foods.
Taking capsules or powders might be beneficial, but commercial probiotics vary in strains used, quality, and ability to deliver enough live bacteria to the colon.
Mind-body therapies
Hypnotherapy and cognitive behavioral therapy (CBT) are supported most by the evidence among mind-body therapies.
Acupuncture
Current evidence doesn't support its use.
The bottom line?
The authors concluded, "Current drug therapy often provides inadequate relief of IBS symptoms, leading many patients to consider CAM therapies. Peppermint oil and probiotics are supported by enough evidence to recommend their use."
2/22/09 19:33 JR