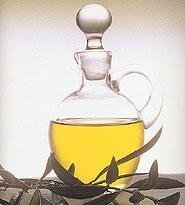 Researchers in the PREDIMED (Prevencion con Dieta Mediterranea) Study in Spain report a reduction in the prevalence of the metabolic syndrome in older adults who followed the traditional Mediterranean diet enriched with nuts for just 1 year.
The metabolic syndrome includes a group of risk factors that increase the chances of getting heart disease, stroke, peripheral vascular disease, and type 2 diabetes.
Excessive fat in and around the abdomen
High triglycerides, low HDL (good) cholesterol, and high LDL (bad) cholesterol
High blood pressure
Insulin resistance or glucose intolerance
High tendency to make blood clots (prothrombotic state)
High C-reactive protein levels in the blood
Now, the details.
1224 older adults at high risk for cardiovascular disease were assigned to a treatment group.

Quarterly education about the Mediterranean diet + getting 1 liter/week of virgin olive oil.
Quarterly education about the Mediterranean diet + getting 30 grams/day of mixed nuts
Advice on a low-fat diet (control group).

The patients followed the diets as best they could.
There was no increase in physical activity.
And, the results.
61% of participants met the criteria for the metabolic syndrome at the start of the study.
One-year later, the prevalence was reduced by 7%, 14%, and 2% in the Mediterranean diet + oil, Mediterranean diet + nuts, and control diet groups, respectively.

The change with the Mediterranean diet + nuts was significant.
The bottom line?
The authors concluded, "A traditional Mediterranean diet enriched with nuts could be a useful tool in the management of the metabolic syndrome."
This is the 4th positive study of the Mediterranean diet summarized on this blog this year.
The Dietary Intervention Randomized Controlled Trial (DIRECT) Group reported, "more favorable effects on… glycemic [blood sugar] control" with the Mediterranean diet.
A study of 13,380 university graduates without diabetes reported a lower risk of heart attack and diabetes after following the Mediterranean diet for 4 years.
In an earlier PREDIMED study, the Mediterranean diet improved lipids better than a low-fat diet among adults at high risk for (but not yet diagnosed with) cardiovascular disease.
HealthCastle.com says "Actually, the Mediterranean diet is not really a set diet. It is simply a healthy eating pattern — a pattern close to the dietary guidelines recommended by the American Heart Association. This diet is high in the good fats (monounsaturated and polyunsaturated fats) as present in fish, olive oil and nuts; and low in saturated fats and trans fats. It provides excellent source of fiber and antioxidants through encouragement of eating lots of plant-based foods."
For anyone who needs a more structured approach, The American Heart Association and OldWays provide lists and recommendations.
12/11/08 18:19 JR