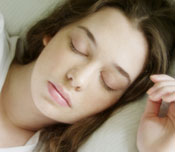 Coronary artery calcification is the accumulation of calcified fatty deposits on the inside of the arteries that supply blood to the heart. Their presence  is a predictor of future coronary heart disease. Researchers from the University of Chicago in Illinois report that sleeping longer is associated with lower calcification.
Let's review the research and reviews from 2008 that looked at CAM options to treat insomnia.
Abdominal acupuncture
In a study of 44 women by researchers at Guangzhou University of Chinese Medicine in China, it was more effective than the benzodiazepine drug estazolam (ProSom, Eurodin).
Researchers from the Cousins Center for Psychoneuroimmunology in Los Angeles reported that tai chi improved sleep quality, habitual sleep efficiency, sleep duration, and sleep disturbance.
Night exercising
Researchers from the Federal University of Sao Paulo in Brazil reported a 21% increase in total sleep time — from about 5 hours to 6 hours.
Mindfulness meditation
When combined with cognitive-behavior therapy there are reductions in both sleep and sleep-related arousal, according to researchers from Stanford University Medical Center in California
Melatonin review on Medscape
Good quality evidence for sleep disturbances is not available, and "more research is needed to justify the use of melatonin for these other sleep conditions."
Auricular acupuncture review
There are some positive studies. But "because of the paucity and… poor quality of the data,… rigorously designed trials are warranted to confirm these results."
The bottom line?
Overall, several CAM options studied in 2008 resulted in positive outcome. Two other reviews, here and here, from 2007 are worth reading as well.
12/24/08 23:51 JR