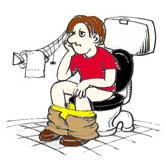 Fluorouracil (5-FU) is a drug that's been used to treat cancer for about 40 years.
Researchers from Helsinki University Central Hospital in Finland tested the value of a probiotic (Lactobacillus) and fiber supplementation on 5-FU side effects.
First, the details.
150 patients with colorectal cancer were randomly assigned to 2 different treatments using 5-FU and leucovorin injections (a commonly used combination of drugs) for 24 weeks.
The treatments are known as the "simplified de Gramont regimen" and the "Mayo regimen."
They were also randomly assigned to Lactobacillus rhamnosus GG supplementation or fiber during chemotherapy.
And, the results.
Patients who received Lactobacillus had significantly less severe diarrhea.
They also reported less abdominal discomfort, needed less hospital care, and had fewer chemotherapy dose reductions.
No Lactobacillus-related toxicity was detected.
Fiber supplementation had no influence on chemotherapy tolerability.
The bottom line?
The authors concluded that the probiotic treatment, Lactobacillus, "may be a practical and well-tolerated means to reduce the severity of 5-FU-based chemotherapy-induced diarrhea."
Way to go!
11/18/07 11:47 JR