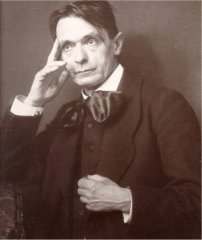 Anthroposophy is a philosophy that maintains your response to your surroundings can be modified by virtue of a prescribed method of self-discipline.
OK, but my conclusion about the results of this study of anthroposophy differs from that of the researchers.
Here's why.
First the details.
62 consecutive patients from 38 medical practices in Germany were seen by an anthroposophic or conventional physician.
The patients had low back pain for at least 6 weeks.
Anthroposophic treatment included eurythmy (rhythmical body movements), rhythmical massage or art therapy, counseling, anthroposophic medicine (plant extracts).
It's not stated in the study abstract what "conventional" treatment included.
And, the results.
A battery of tests showed that both groups improved.
The bottom line?
The authors concluded, "Compared to conventional therapy, anthroposophic therapy for chronic low back pain was associated with at least comparable improvements."
But wait! The study design is flawed.
Reviewing the conclusions from a large group of doctors using a specific treatment in their patients is popular in Germany. At first glance it looks like a convenient way to collect data from large groups of patients. However…
There's no attempt to randomly assign patients to treatment. Therefore, treatment assignments are prone to the doctor's assessment (read bias).
Attempts by physicians to assess the response to treatment they prescribe are prone to bias, especially when those results will be reviewed by their peers.
Patients who complete questionnaires that are submitted to their doctor are prone to bias, because patients don't want to offend their doctor.
Third parties who do not independently evaluate the results of treatment are prone to the bias of the person completing the evaluation forms.
Let's assume, conventional treatment was a heating pad and some type of pain medicine. Considering the effort one must exert to comply with the anthroposophic regimen, I think equal results mean less benefit for the effort.
11/18/07 13:25 JR