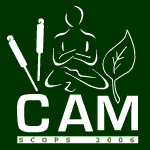 Not always, according to this report from the Royal Children's Hospital, in Melbourne, Australia.
First, the details.
The findings are based on a monthly active surveillance study of CAM-associated adverse events reported to the Australian Pediatric Surveillance Unit between January 2001 and December 2003.
And, the results.
There were 4 deaths among 39 reports of adverse events associated with CAM use.

The reported deaths were associated with a failure to use conventional medicine in favor of a CAM therapy.

There were several areas of concern.

Risks associated with failure to use conventional medicine
Risks related to medication changes made by CAM practitioners
Dangers of dietary restriction

Some examples:

An 8-month-old child admitted to hospital with near fatal malnutrition and septic shock following naturopathic treatment with a rice milk diet from the age of 3 months for the treatment of constipation.
Another death involved a 10-month-old child who developed septic shock after being treated with homeopathy and a restricted diet for chronic eczema.

In these CAM specific cases, parents sought to treat anything from constipation to clotting disorders, and diabetes to cerebral palsy.
The bottom line?
Yes, yes. I hear the chorus. It's better than what's reported with allopathic medicine.
The allopathic comparison is irrelevant. The appropriate conclusion from this report is, as stated by the authors, "CAM use has the potential to cause significant morbidity and fatal adverse outcomes."
Caveat emptor.
12/24/10 11:49 JR