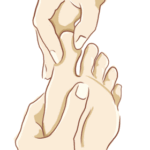 Prof. Ernst has reviewed all the studies.
First, the details.
Studies selected for review included those where trained reflexologists preformed reflexology on patients with specific medical conditions.
18 studies were good enough to include in the review.
The studies examined anovulation, asthma, back pain, dementia, diabetes, cancer, foot edema in pregnancy, headache, irritable bowel syndrome, menopause, multiple sclerosis, the postoperative state, and premenstrual syndrome.
And, the results.
There was more than 1 study of asthma, the postoperative state, cancer palliation, and multiple sclerosis.
5 studies yielded positive results.
The quality of the studies based on Jadad scale was often poor, and few patients were studied.
Most higher-quality studies did not report positive findings.
The bottom line?
The professor concluded, "The best evidence available to date does not demonstrate convincingly that reflexology is an effective treatment for any medical condition."
A PubMed search revealed nothing new since this review was published.
11/22/09 19:07 JR Updated: 12/19/10 19:04 JR