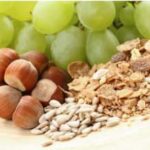 A healthy diet should be rich in vegetables and fruits, whole-grain, high-fiber foods, and fish, and should contain a small amount of saturated and trans fats.
Researchers at Assistance Publique-Hôpitaux de Paris, in France, reviewed dietary approaches proven to be associated with lowering LDL-cholesterol.
Here's what we know.
Increased dietary fiber intakes are associated with significantly lower prevalence of cardiovascular disease and lower LDL-cholesterol concentration of about 5% to 10%.
Beyond LDL-cholesterol lowering effects, other benefits have been observed on hypertension, diabetes mellitus.
The bottom line?
The authors concluded, "Dietary recommendations may have an impressive impact on cardiovascular events because they can be implemented early in life and because the sum of the effect on LDL-cholesterol is far from being negligible."
Step 1 diet (maximum of 30% of energy from fat [with less than 10% of total energy from saturated fat] and high in carbohydrates; -10%)
Dietary fibers (-5 to -10%)
Plant sterols/stanols (naturally occurring substances found in plants; -10%)
Nut consumption (-8%)
Soy protein (-3 to -10%)
4/22/11 20:53 JR