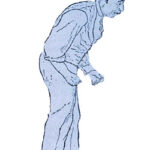 Almost everyone is deficient in vitamin D, and this deficiency is implicated in several diseases.
Now, researchers at the National Institute for Health and Welfare, in Helsinki, Finland, look for an association with Parkinson's disease.
First, the details.
3173 adults were free of Parkinson disease at the start of the study.
Over the next 29 years there were 50 cases of Parkinson disease.
Blood levels of 25-hydroxyvitamin D were measured.
And, the results.
People with higher blood levels of vitamin D had a reduced risk of Parkinson disease.
The bottom line?
The authors concluded, "The results are consistent with the suggestion that high vitamin D status provides protection against Parkinson disease."
More studies will have to confirm these findings. For now, it's just 1 more reason to check out your vitamin D blood level.
9/15/10 22:05 JR