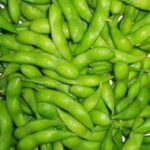 Soy isoflavones sensitize prostate cancer cells to radiation. They also have antioxidant and anti-inflammatory activity, which might help prevent the side effects of radiation.
Researchers at Wayne State University, in Detroit, Michigan, studied the effects of soy isoflavone supplementation on the toxicity of external beam radiation therapy in patients with localized prostate cancer.
First, the details.
42 patients with prostate cancer were randomly assigned to a treatment group.

200 mg soy isoflavone daily for 6 months beginning the first day of radiation therapy
Placebo

Radiation was administered in 1.8 to 2.5 Gy fractions for a total of 73.8 to 77.5 Gy.
The patients completed a quality of life questionnaire at 3 and 6 months.
And, the results.
Only 26 and 27 patients returned completed questionnaires at 3 and 6 months, respectively.
At each time, urinary, bowel, and sexual adverse symptoms induced by radiation therapy were decreased in the soy isoflavone group vs the placebo group.
At 3 months, soy-treated patients had less urinary incontinence, less urgency, and better erectile function vs the placebo group.
At 6 months, the symptoms in soy-treated patients were further improved vs the placebo group.

Less dripping/leakage of urine (8% in the soy group vs 28% with placebo)
Less rectal cramping/diarrhea (8% vs 21%)
Less pain with bowel movements (0% vs 15%)
Higher overall ability to have erections (77% vs 57%)
The bottom line?
The authors concluded, "The results suggest that soy isoflavones taken in conjunction with radiation therapy could reduce the urinary, intestinal, and sexual adverse effects in patients with prostate cancer."
For those who completed the study, the results are impressive. However, 38% of the men failed to complete the study, and the abstract fails to report the reasons for this high rate of discontinuation.
The side effects from external beam radiation are significant and can last  (urethral stricture) long after successful prostate surgery or brachytherapy.
Earlier laboratory research by the same researchers showed that treatment of prostate cancer cells with soy isoflavones and radiation resulted in greater cell killing.
Here's hoping they repeat the study.
10/7/10 19:37 JR