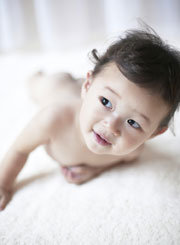 Babies born too early (preterm) have a higher risk of dying in the first weeks of life, and those who survive often have damage in the form of cerebral palsy
This Cochrane review identified positive effects of magnesium sulphate when given to women at risk of preterm birth.
First, the details.
5 studies (6145 babies) of antenatal (before birth) magnesium sulphate therapy in women threatening or likely to give birth at less than 37 weeks' gestational age were reviewed.
And, the results.
Women at risk for preterm birth who received antenatal magnesium sulfate had a substantially lower risk for cerebral palsy in their offspring.
Infants of these women also had significantly less gross motor dysfunction.
Antenatal magnesium sulfate therapy had no effect on pediatric mortality rates or on other neurologic impairments or disabilities in the first few years of life.
The magnesium groups had higher rates of minor maternal adverse effects but no major maternal adverse events.
The bottom line?
The reviewers concluded that the neuroprotective role of antenatal magnesium sulphate therapy in women at risk of preterm birth is now established. The number of women needed to be treated to benefit one baby by avoiding cerebral palsy is 63.
2/9/09 21:45 JR