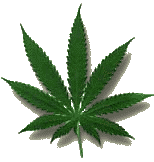 Researchers from Washington State and Illinois report no association between marijuana use and increased oral-cancer risk.
First, the details.
407 adults from western Washington State with newly diagnosed oral squamous cell carcinoma were studied.
They were compared to 615 people of similar age and sex.
Lifetime histories of marijuana use and exposure to risk factors for oral squamous cell carcinoma were obtained using a questionnaire.
Information on genetics was obtained from DNA assays.
And, the results.
A similar proportion of those with cancer (26%) and the control group (24%) reported experience with marijuana.
There were no trends in duration, average frequency of use, or time since first or last use.
Potential confounding factors (age, cigarette smoking, alcohol consumption, and genetic polymorphisms) had no effect on risk.
The bottom line?
The authors acknowledge that because their data included relatively few people who had used marijuana for many years, they can't discount the possibility that long-term use of marijuana might be associated with a greater risk of oral squamous cell carcinoma.
As individuals born since the 1940s age into their sixth decade of life (when the baseline rates of oral squamous cell carcinoma rise dramatically), the prevalence of long-term use marijuana use in the population will increase and, according to the authors, will have to be re-evaluated.
2/9/09 22:46 JR