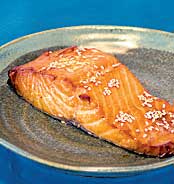 Insulin resistance occurs when cells in the body no longer respond to insulin. The cause in most cases isn't known but appears to be linked to obesity, high blood pressure, and high cholesterol levels.
Researchers from the University of California at Davis reviewed the evidence on the potential for omega-3 fatty acids to prevent insulin resistance.
First, the details.
Results from recent human and animal studies on the effects of omega-3 polyunsaturated fatty acid in preventing insulin resistance were reviewed.
And, the results.
In animals
Animal studies indicate that fish oil and individual omega-3 fatty acids (alpha-linolenic acid [ALA], eicosapentaenoic acid [EPA, and docosahexaenoic acid [DHA]) prevent insulin resistance.
In 2 studies in mice, EPA increased insulin secretion.

In humans
Fish oil or purified EPA reduced insulin resistance in some but not other studies of normal weight and obese people.
Moderate amounts of omega-3 fatty acids didn't improve or worsen blood sugar control in type 2 diabetics.
The bottom line?
The authors concluded that discrepancies in human data might be due to differences in health status of participants and methods used to assess insulin resistance, among others reasons.
Of course, the fact remains that there are good reasons to include omega-3 as part of an overall healthy lifestyle that includes weight control, exercise, and reduction in the intake of refined sugars, omega-6, saturated, and trans fatty acids.
2/10/09 19:02 JR