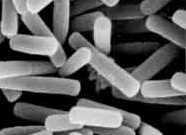 NewsWise reports the results of 3 studies presented during the American College of Gastroenterology's 73rd Annual Scientific Meeting in Orlando.
Highlights of the reports on probiotics used to treat irritable bowel syndrome (IBS) follow.
Probiotic review
19 studies in 1628 IBS patients were reviewed.
Probiotics are effective in IBS.
But it's not clear whether 1 probiotic or combinations of probiotics are required.
Effect of a multi-strain probiotic on the frequency of diarrhea
84 IBS patients with diarrhea were studied for 28 days.
Bowel habits in IBS patients normalized compared to those who received the placebo — a significant difference.
Children with IBS
59 pediatric patients received either a probiotic agent (VSL#3®) or placebo for 6 weeks, and then the other treatment for 6 weeks more.
Results were based on responses to a questionnaire.
The probiotic was safe and significantly more effective than placebo in alleviating IBS symptoms (abdominal pain/discomfort, bloating, stool dysfunction) in children and teenagers.
10/6/08 14:59 JR