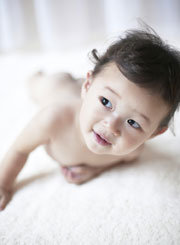 Researchers from Los Angeles reviewed the literature and found acupuncture holds promise but,… surprise … more research is needed.
Here's what we know today.
Chronic pain
Yes, the pain tends to become less, but the average duration of the "acupuncture effect" is just 3 days.
High degree of acceptability.
Past experience with acupuncture did not appear to influence treatment response.
Migraine
In one study, there were significant decreases in migraine frequency and intensity with acupuncture vs no decline with placebo.
However, it wasn't possible to separate the effect of acupuncture from other treatments taken at the same time.
Infant distress
Just one study.
Children having an ophthalmologic exam for retinopathy of prematurity had less increase in cortisol levels (a measure of stress) in saliva with electroacupuncture vs a control group.
Nocturnal enuresis (bed wetting)
Research suggests a role for acupuncture as an alternative treatment option.
Constipation
Just one study.
Males and females showed a similar significant increase in number of bowel movements per week after 10 weeks of acupuncture.
Females tended to improve more quickly.
Epilepsy
A Cochrane review concluded there is no strong evidence for acupuncture as a treatment for epilepsy.
Allergies
For 12 weeks following acupuncture, there was a significant reduction in rhinitis.
The acupuncture group had significantly more symptom-free days during and after treatment.
There was greater immediate improvement with acupuncture.
Post-treatment IgE (immunoglobulin E) levels (indicate the presence of an allergic antibody) were significantly elevated in the sham group, but not the acupuncture group.
Neurologic disability
For drooling problems, there was improvement lasting 6 months.
In cerebral palsy, there appeared to be significantly improved mobility and self-care.
Laryngospasm (side effect of pediatric general anesthesia)
Less laryngospasm with acupuncture vs no treatment.
Post-operative vomiting
No difference in patients getting acupuncture vs droperidol (Inapsine; a tranquilizer), although acupuncture was associated with less restlessness post-operatively.
Similar findings with laser-stimulated acupuncture.
No significant differences in nausea, vomiting, or overall satisfaction between ondansetron (Zofran; an antiemetic) and acupuncture.
Cancer-related conditions
Some evidence for reduced chemotherapy-related side effects, and better mental alertness as a result of acupuncture.
The bottom line?
A superficial review of the available information might lead one to conclude that acupuncture has a significant role in pediatrics. But most of what is available is based on single and often marginal studies.
As the authors concluded, "A significant amount of additional research is still needed in order to establish a sound empirical basis for the incorporation of acupuncture into standard care."
1/14/08 19:26 JR