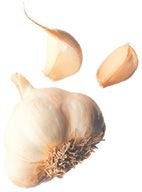 Garlic (Allium sativum) is one of the most commonly used supplements.
But based on the results of this review by Professor Ernst at the Universities of Exeter and Plymouth in the UK, it's most useful to simply season food.
Literature searches identified 6 relevant systematic reviews and meta-analysis and double-blind randomized trials. Conditions to treat included cancer, common cold, high cholesterol, high blood pressure, peripheral arterial disease (narrowed arteries with reduced blood flow to the limbs), and pre-eclampsia (a form of toxemia of pregnancy).
What they found.
The evidence based on rigorous clinical trials of garlic was not convincing.
Cholesterol: Reported effects were small and of questionable relevance to patient care.
Blood pressure: Few studies were available and the effects were too small to be clinically meaningful.
Other conditions: Not enough data were available to permit recommendations.
The bottom line?
Summaries of other studies with the same conclusions regarding cholesterol and garlic were published earlier here and here.
10/7/07 12:59 JR