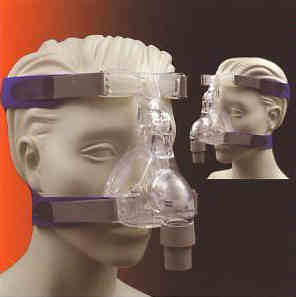 Sleep apnea occurs when people fail to breath while sleeping. Untreated, it can cause high blood pressure and other cardiovascular disease, memory problems, weight gain, impotency, and headaches.
Continuous positive pressure breathing (CPAP) is effective treatment. But it's uncomfortable to use (photo).
Now, a study shows that cognitive behavioral therapy (CBT) improves acceptance of CPAP.
First, the details.
100 adults (96 men) with obstructive sleep apnea (OSA) — caused by a blockage of the airway in the rear of the throat during sleep.
Some were randomly assigned to 2, 1-hour CBT sessions (including a video of real CPAP users) plus treatment as usual (mask fitting and information).
The rest got treatment as usual.
And, the results.
There was 3-hour longer adherence to CPAP at night in the CBT group at 28 days.
Only 4 participants in the CBT group did not initiate treatments, compared with 15 in the treatment as usual group.
Both differences were significant.
The bottom line?
The researchers believe these results would occur in women too.
They also concluded that wide spread use of CBT in people with OSA who are scheduled for CPAP "would be expected to reduce the social, economic, and health-related consequences of untreated OSA."
6/3/07 14:22 JR