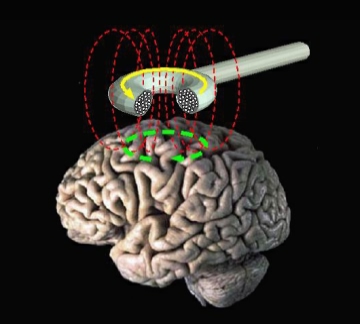 The results from two studies of transcranial magnetic stimulation (TMS) may lead to a better method of predicting or assessing the effects of drugs used to treat neuropathic pain.
In TMS, a magnetic coil is moved over the brain. The resulting magnetic fields induce tiny electrical currents in the skull that alter the activity of nerve pathways, leading (in these studies) to stimulation of different areas.
In the first study, the antiseizure drugs carbamazepine (Carbatrol), gabapentin (Neurontin) and topiramate (Topamax) administered to 8 patients with neuropathic pain reduced the TMS excitability of certain nerves in the brain.
In the second study, the extent of the suppresion of the nerves was greater in 23 patients with neuropathic pain as the dose of topiramate increased.
Here's some background.
Neuropathic pain is common in patients with diabetes, HIV, and cancer, as well as other diseases. Detailed reviews are presented here and here.
There is no proven treatment to prevent or cure neuropathic pain. Instead, the goals of treatment are to reduce the pain as much as possible, and not let the side effects of treatment get out of hand.
8/13/06 22:27 JR