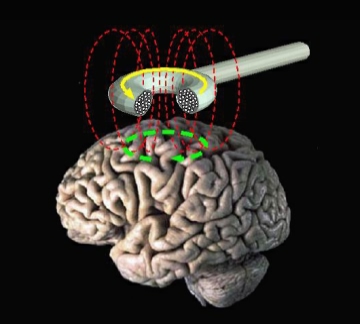 There's lots of interest in using transcranial magnetic stimulation (TMS) to assess the underlying causes of neurologic diseases ? as well as diagnose and possibly treat these conditions.
The intent in this study was not to use magnets (or more precisely magnetic fields) as a form of therapy. In this case, TMS was used to detect differences in nerve function in normal volunteers and patients with Alzheimer's disease.
Repetitive TMS can regulate the excitability of the cerebral cortex of the brain. The researchers found that healthy people respond to repeated magnetic stimulation with an electrical response from the nerves that progressively increases in size.
In patients with Alzheimer's disease, this is not the case. In fact, the electrical response decreases in size.
In TMS a magnetic coil held outside the skull is moved over different parts of the brain. The magnetic fields created by the coil induce tiny electrical currents inside the skull that alter the activity of nerve pathways, leading to stimulation or inhibition of different areas.
TMS might become a safe, non-invasive method to predict the clinical onset of dementia in Alzheimer's disease. About 3% of men and women ages 65 to 74 have Alzheimer's disease. It afflicts nearly half of those age 85 and older. Abpout 4.5 million Americans have Alzheimer's disease today. It is estimated to increase to about 13 million by 2050.
Illustration: National Institute of Neurological Disorders and Stroke
8/13/06 13:33 JR