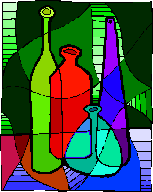 Making the rounds this morning is a Newswire release from MD Anderson Cancer Center about Cherie Perez. She's a research nurse who teaches aromatherapy to cancer patients during their treatment at the Cancer Center. You can read it here.
Since my background is based in traditional medicine, the involvement of this prestigious medical center sparks my interest to learn more about aromatherapy. I start by looking for structure.
It turns out, there are lots of ways to use oils.
Here, from Psychology Today are the five common types of aromatherapy.
Cosmetic Aromatherapy: Applied to hair and skin to beautify
Psycho-Aromatherapy: Inhaled to affect emotions and moods
Aromatherapy Massage: Used for relaxation
Medical Aromatherapy: Complements medical treatments
Olfactory Aromatherapy: Inhaled directly or after diffusion into the air
Illustration: New York Awareness Center
8/27/06 10:56 JR