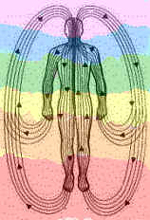 Polarity is one of many new age holistic health practices. It attempts to cure disorders in mind, body and spirit, and promote "wholeness."
A nice idea. But there is little except faith supporting the premise. One study in a very small population of cancer patients was reviewed here.
What can you expect during a session of polarity therapy? Touching, stretching, eating, and counseling of course.
If you're ready, let's look closer at what goes on during a typical session.
Manipulation and touch
To release and then block polarized blocked energy currents that cause illness
Includes deep pressure, manipulation, and light touch
Stretching and postures
Similar to yoga
Shout and groan to help release tension
Diet
One for "cleansing"
Then, one for "health-building"
Followed by a maintenance diet
You might want to consult a doctor before starting this
Mental attitude
Counseling
To balance and stabilize the mind
Thanks to a website out of South Africa called Mind and Body ? The Complete Natural Health Directory.
Illustration: Mind and Body
8/27/06 14:01 JR