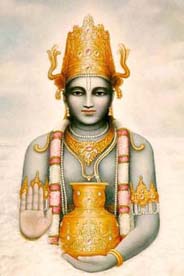 The New York Times Magazine published a travelogue by a San Francisco woman who spent time In India as an "ayurveda tourist." The goal of the trip was to "immerse [herself] in ayurveda, the 3,500-year-old herb-based healing tradition that still flourishes in the daily life of India."
As might be expected of a San Franciscan writing in NYT, she managed to insert a dig at Dick Cheney, but not once in 2900 words mentions the problem of lead poisoning associated with ayurvedic medicines.
Guess you have to pick your poison. But if she can't do it, I will.
In the past year, there were 10 reports of lead intoxication with ayurvedic medication.
A 46-year-old man with multiple sclerosis in Amsterdam
Eight cases in or near the Auckland region of New Zealand
A 32-year-old man in France repeatedly hospitalized for abdominal pain, constipation, weight loss, anemia, and mild elevation of liver enzyme levels
All cases had high blood levels of lead.
The worldwide prevalence lead toxicity due to ayurvedic medicines isn't know. However, one study showed that 64% of samples collected in India contained significant amounts of lead.
Although the majority of lead poisoning in adults is due to occupational exposure, traditional or folk medications can cause lead poisoning. For more information, Dr. Annapoorna Chirra from UCLA has published an excellent review that covers the signs and symptoms of lead poisoning.
Illustration: Palmland Tours, Kerala
8/27/06 16:34 JR