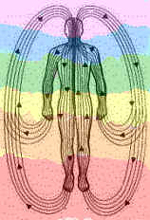 In the Polarity model, "health is experienced when energy systems function in their natural state," according to the "American Polarity Therapy Association (APTA).
Sounds good. And in a study of 15 women undergoing radiation therapy for breast cancer there was a statistically significant improvement in cancer-related fatigue and health-related quality of life.
Two sessions of polarity therapy were better than one. And one session of polarity therapy was better than none.
Accoding to APTA, "touch, diet, movement, sound, attitudes, relationships, life experience, trauma, and environmental factors all affect the human energy field."
Can anyone argue against the benefits of a sympathetic ear, good counseling, and a massage? See this post for what to expect during a treatment session.
Illustration: Mind and Body
8/26/06 23:37 JR