Archive for the 'Guggulsterones' Category
Tuesday, August 8th, 2006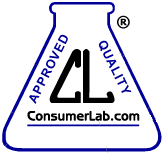 Three of 16 products failed the content analysis test. One product did not release its ingredients and two others had less than half the expected ingredients.
That's less than a 20% failure rate, which is better than often reported by this lab.
An article in Functional Foods & Nutraceuticals reports that the following supplements were tested: sterols, policosanol, guggulsterones, fish oil, garlic, niacin, soy protein, red yeast rice, and stanols. I highlighted the supplements discussed at this blog.