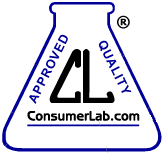 Three of 16 products failed the content analysis test. One product did not release its ingredients and two others had less than half the expected ingredients.
That's less than a 20% failure rate, which is better than often reported by this lab.
An article in Functional Foods & Nutraceuticals reports that the following supplements were tested: sterols, policosanol, guggulsterones, fish oil, garlic, niacin, soy protein, red yeast rice, and stanols. I highlighted the supplements discussed at this blog.
Note: A previous report by ConsumerLab (6/21/06) reported that 8 of 16 garlic products failed.
You have to be a member to read the entire report. I have no affiliation with them. Just think they provide a good service.
Logo: ConsumerLab.com
8/8/06 15:00 JR