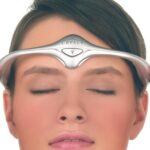 It's the first device approved to prevent migraine headaches, and the first transcutaneous electrical nerve stimulation (TENS) device specifically authorized for use prior to the onset of pain.
Here's what we know about Cefaly.
The device
Cefaly is a small, portable, battery-powered, prescription device.
Resembles a plastic headband worn across the forehead and atop the ears
Attached to the center of the forehead, above the eyes, using a self-adhesive electrode
Applies an electric current to the skin and underlying body tissues to stimulate branches of the trigeminal nerve, which is associated with migraine headaches
The user may feel a tingling or massaging sensation where the electrode is applied.
Now, the details.
A 67-person study in Belgium compared Celaly to placebo.
And, the results.
Significantly fewer days with migraines per month vs. a placebo device
Less use of migraine attack medication vs. a placebo device
Cefaly did not completely prevent migraines and did not reduce the intensity of migraines that did occur.
Most commonly reported complaints

Not wanting to continue using the device because of how it felt
Sleepiness during the treatment session
Headache after the treatment session
The bottom line?
Cefaly is indicated for patients at least 18 years of age and should only be used once per day for 20 minutes.
In a patient satisfaction study of 2,313 Cefaly users in France and Belgium, about 53% were satisfied with Cefaly treatment and willing to buy the device for continued use.
3/12/14 09:07 JR