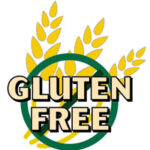 Following a gluten-free diet is the key to treating celiac disease (sprue) — an autoimmune disorder of the small intestine that occurs in genetically predisposed people.
One might think that "gluten free" means no gluten, but that's not correct, according to the FDA.
Here's what we now know.
A new federal definition standardizes the meaning of "gluten-free" across the food industry.
In order to use the term "gluten-free" on the label, a food must contain less than 20 parts per million of gluten.
Foods that claim to be "free of gluten," have "no gluten," and be "without gluten" must meet the definition for "gluten-free."
The bottom line?
Many foods currently labeled as "gluten-free" may be able to meet the new federal definition already. However, food manufacturers will have a year after the rule is published to bring their labels into compliance with the new requirements.
The FDA was directed to issue the new regulation by the Food Allergen Labeling and Consumer Protection Act (FALCPA), which directed FDA to set guidelines for the use of the term "gluten-free" in order to help people with celiac disease maintain a gluten-free diet.
Increasingly, the diagnosis of celiac disease is being made in asymptomatic persons as a result of increased screening. The condition is thought to afflict between 1 in 1,750 and 1 in 105 people in the United States.
However, interest in gluten-free (g-free) diets goes well beyond the treatment of this condition. In one survey, just under one-third of 1,000 respondents agreed with the statement: "I'm trying to cut back/avoid gluten in my diet." In 2009, TIME projected the gluten-free movement to be #2 on its top 10 list of food trends for 2012.
From a marketing perspective, the gluten-free products market is predicted to reach $6.2 billion by 2018, according to a new report from MarketsandMarkets. North America has about 59% share of the global market.
8/5/13 11:35 JR