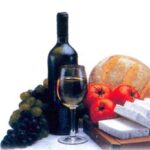 A couple of years ago, researchers at the University of Florence, in Italy, reviewed the effects of the Mediterranean diet on the risk of death and the occurrence of Parkinson's or Alzheimer's diseases.
Now, they've updated their findings.
First, the details.
This updated included 7 studies not included in the previous meta-analysis (1 study for overall mortality, 3 on cardiovascular incidence or mortality, 1 on cancer incidence or mortality, and 2 on neurodegenerative [eg, Parkinson's, Alzheimer's] diseases).
These recent studies included 2 health outcomes not previously investigated (ie, mild cognitive impairment and stroke).
And, the results.
The meta-analysis showed that a 2-point increase in adherence to the Mediterranean diet was associated with a significant reductions in the following outcomes.

Reduction of overall mortality
Cardiovascular incidence or mortality
Cancer incidence or mortality
Neurodegenerative diseases
The bottom line?
The authors concluded, "in a larger number of subjects and studies,.. [there was] significant and consistent protection provided by adherence to the Mediterranean diet in relation to the occurrence of major chronic degenerative diseases."
Basic Ingredients of the Mediterranean Diet can be found here.
10/22/10 18:36 JR