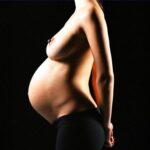 Researchers at East Carolina University, in Greenville, North Carolina, studied the response to hydrotherapy (immersion or bathing) in women in spontaneous labor.
First, the details.
11 term women in spontaneous labor were immersed to the xiphoid (mid-chest) in 37°C water for 1 hour.
Blood samples and measures of anxiety and pain were obtained before entering the bath and repeated at 15 and 45 minutes of hydrotherapy.
Uterine contractions were monitored telemetrically.
Maternal anxiety and pain, neuroendocrine (nervous and endocrine systems) responses, changes in blood volume, and uterine contractions during labor were recorded.
And, the results.
Hydrotherapy was associated with decreased anxiety, vasopressin, and oxytocin (stimulates uterine contractions) during hydrotherapy.
There were no significant differences in pain or cortisol levels.
However, pain decreased more for women with high pain than for women with low pain.
Cortisol levels decreased twice as much at 15 minutes of hydrotherapy for women with high pain vs low pain.
Beta-endorphin levels increased at 15 minutes but didn't differ before hydrotherapy vs after 45 minutes in the bath.
During immersion, uterine contraction frequency decreased.
A positive shift in plasma volume at 15 minutes correlated with contraction duration.
The bottom line?
There were positive changes in anxiety. And women with high levels of pain had less pain and decreased cortisol levels.
The authors concluded, "Hydrotherapy during labor affects neuroendocrine responses that modify psychophysiological processes."
Researchers at Western Michigan University, in Kalamazoo, tell us, "While effective for labor pain, hydrotherapy is not often used." Overall, nurses have a negative perception of hydrotherapy. However, those with experience tend to have a more positive view of it and perceive "fewer barriers to hydrotherapy."
12/15/10 23:05 JR