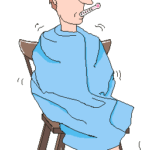 In a study sponsored by the NCCAM, researchers from the US and Australia looked for potential benefits.
First, the details.
719 adults with new-onset common cold were assigned to a treatment group.

No pills
Indistinguishable placebo pills (blinded: where the patients didn't know their treatment)
Echinacea pills (blinded)
Echinacea pills (unblinded: where the patients knew their treatment)

Symptoms had to start within 36 hours before enrollment.
Echinacea groups received the equivalent of 10.2 grams of dried echinacea root during the first 24 hours and 5.1 grams during each of the next 4 days.
Severity of colds was assessed twice daily by each patient using the Wisconsin Upper Respiratory Symptom Survey, short version.
In addition, interleukin-8 levels and neutrophil counts from nasal wash were assessed.
And, the results.
Overall severity of the cold was 236 and 258 for the blinded and unblinded echinacea groups, respectively.

It was 264 for the blinded placebo group, and 286 for the no-pill group.
Differences were not significant.

Average duration if illness in the blinded and unblinded echinacea groups was 6.3 and 6.8 days, respectively, vs 6.9 days in the blinded placebo group and 7.0 days in the no-pill group — not significant.
Changes in interleukin-8 levels and neutrophil counts were also not statistically significant.
The bottom line?
The authors concluded, "Illness duration and severity were not statistically significant with echinacea compared with placebo."
"These results do not support the ability of this dose of the echinacea formulation [taken within 36 hours of an onset of cold] to substantively change the course of the common cold."
This study used tablets that contained the equivalent of 675 mg of E. purpurea root and 600 mg of E. angustifolia root, each standardized to 2.1 mg of alkamides. Others have recommended using the aerial (above ground) parts of the plant.
OK, but if it's standardized, this should have no effect on potency.
The editors of the journal tell us that these patients showed a higher than expected variability in the natural history of cold episodes, which may have limited the ability of the study to detect changes. Accordingly, they think these results are unlikely to alter the debate on echinacea for the common cold.
Here's a summary of what we know about echinacea and the common cold.
12/21/10 09:32 JR