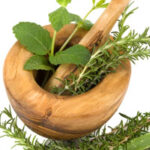 Researchers at the University of Hong Kong, in China, studied the risk for an herbal:warfarin interaction in patients with non-valvular atrial fibrillation.
First, the details.
The international normalized ratio (INR) was measured in 250 adult patients with atrial fibrillation (the most common heart arrhythmia).
All patients had been prescribed warfarin (Coumadin) for at least 6 months prior to the study.
Their dietary intake, including the type and frequency of common herbs, was recorded using a standardized questionnaire.
And, the results.
At least 50% of patients reported consumption of foods with herbal ingredients.

Garlic (80%)
Ginger (75%)
Green tea (50%)
Papaya (55%)

Rarely used herbal drugs included…

Danshen (1%)
Dong quai (1%)
Fenugreek (1%)
Psyllium seed (less than 1%)
Finseng (4%)

Infrequent users (1 kind of herb less than 4 times per week) and non-users were significantly more likely (58%) to have an INR within the optimal therapeutic range (2.0 to 3.0) than frequent users (greater than 1 kind of herb at least 4 times per week)(51%).
The bottom line?
The authors concluded, "Patients with atrial fibrillation treated with warfarin had little knowledge about the potential interaction of herbal substances in foods with warfarin.
And, patients who consumed common herbs at least 4 times per week had a greater risk of suboptimal anticoagulation control with warfarin compared to patients who took herbals less often.
However, the risk of a herbal:warfarin interaction is not limited to frequency of use. Specific herbals (eg St. John's wort, ginkgo, ginseng, garlic) are known or suspected to interact with warfarin and should be avoided during anticoagulation (blood thinning) therapy.
6/12/11 21:21 JR