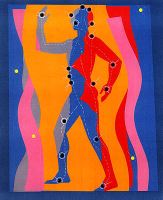 A review published 6 years ago in the International Journal of Obesity concluded, "Most trials have been descriptive in nature, of short duration (less than or equal to 12 weeks), and designed using nonstandard treatment protocols."
So, what's changed?
First, the details from a new review in the same journal.
31 studies in 3013 patients were included.
And, the results.
2 studies were dropped due to insufficient data.
20 out of 31 studies had the lowest Jadad score — widely used to assess the quality of clinical studies.
Based on what was available…

Acupuncture was better than lifestyle changes.
Acupuncture was better than placebo or sham acupuncture.
Acupuncture was better than conventional medicine.

Only 4 studies reported adverse effects of acupuncture.
The bottom line?
The authors concluded that there's a suggestion that acupuncture is effective treatment for obesity. However, "evidence is not fully convincing because of the poor methodological quality of trials reviewed."
An earlier study in China reported that the effect of acupuncture when combined with diet and aerobic exercise is more obvious during the early stage of treatment with regard to body weight and the waist:hip ratio."
2/23/09 21:02 JR, updated 6/13/11 22:52 JR