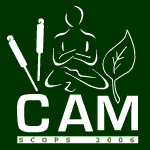 A key outcome of early cancer drug studies is the toxicity of a new experimental drug. The use of CAM in patients with advanced cancer might make it difficult to make this determination.
Researchers at The University of Texas MD Anderson Cancer Center, in Houston, studied the prevalence of CAM use in their patients participating in experimental cancer drug treatment studies.
First the details.
404 patients in a phase 1 treatment clinic were surveyed for their use of CAM drugs.
Nonpharmacologic CAM included prayer, meditation, hypnosis, massage, and acupuncture.
And, the results.
52% used at least 1 CAM.
Among CAM users…

77% used pharmacologic CAM
71% used nonpharmacologic CAM
48% used both

The most frequent CAM used were…

Vitamins (70%)
Prayer (57%)
Herbal products (26%)

CAM use

CAM use was not significantly associated with race, age, level of education, employment, or income level.
Women used CAM significantly than men.

There was no statistically significant association between the use of CAM and quality of life as perceived by patients.
Among the CAM users…

43% had been using CAM for longer than 5 years.
Only 5% reported having side effects from using CAM
23% did not fully disclose their CAM use to their physicians.
The bottom line?
The authors concluded, "CAM usage is common in patients with advanced malignancies seen in a phase 1 clinic."
These findings have significant implications for researchers and pharmaceutical companies as they screen for new drugs in cancer therapy.
5/8/11 21:05 JR