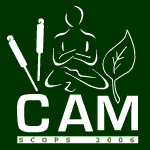 I've largely ignored these studies in the past, but perhaps it's worth a second look.
To start, this 1993 study by Dr. David Eisenberg, who is now the director of Complementary and Integrative Medical Therapies at Harvard University, is considered a landmark in the field of "unconventional medicine."
First, the details.
A national survey was conducted to determine the prevalence, costs, and patterns of use of unconventional therapies, such as acupuncture and chiropractic.
The survey included 16 commonly used CAMs neither taught widely in US medical schools nor generally available in US hospitals.
Telephone interviews were conducted with 1539 adults.
Respondents were asked to report any serious or bothersome medical conditions and details of their use of conventional medical services.
And, the results.
34% used at least 1 unconventional therapy in the past year.
Most commonly used CAM:

Exercise: 26%
Prayer: 25%
Relaxation: 13%
Chiropractic: 10%
Massage: 7%
Imagery: 4%
Spiritual healing: 4%
Commercial weight loss program: 4%
Lifestyle diets (eg, macrobiotics): 4%
Herbal medicine: 3%
Megavitamin therapy: 2%
Self-help: 2%
Energy: 1%
Biofeedback: 1%
Hypnosis: 1%
Homeopathy: 1%
Acupuncture: less than 1%
Folk remedies: less than 1%
A third of CAM users saw CAM providers an average of 19 times during the preceding year.
The average charge per visit: $28.
Highest use was among nonblack persons from 25 to 49 years old with more education and higher incomes.
Most used unconventional therapy for chronic medical conditions.
72% of the respondents who used unconventional therapy did not inform their medical doctor.
Extrapolation to the US. population:

425 million visits to CAM providers — exceeding the number of visits to all US primary care physicians (388 million).
Expenditures associated with CAM: $14 billion, three quarters ($10 billion) paid out of pocket.
Comparable to  $13 billion spent out of pocket annually for all hospitalizations in the US.
The bottom line?
2 decades ago, a third of Americans used CAM.
As new studies are published, we'll see how more recent data compare.
5/24/10 18:11 JR