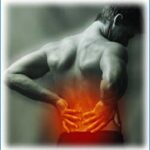 It's one of the most common and costly musculoskeletal problems.
The authors evaluated the effects of combined chiropractic interventions on pain, disability, back-related function, overall improvement, and patient satisfaction in adults with low back pain.
First, the details.
12 studies involving 2887 people with low back pain treated with spinal manipulation plus a range of procedures (exercise, massage, heat or electrical stimulation) were included.
3 studies had low risk of bias.
And, the results.
For acute and subacute low back pain combined treatments slightly improved pain and disability in the short-term and pain in the medium-term.
There's no evidence that these treatments provide a clinically meaningful difference for pain or disability in people with low back pain compared to other treatments.
The bottom line?
So, there's no evidence that chiropractic works significantly better than care provided by other clinicians.
Lead author Bruce Walker, a doctor of chiropractic at the Murdoch University School of Chiropractic and Sports Science in Australia, acknowledges that the studies selected for review were "pragmatic," in that "they reflect the reality of practice, which usually involves combined interventions and not just one."
In other words, it was difficult to distinguish the effects of one treatment from others that were used in these patients.
4/16/10 20:30 JR