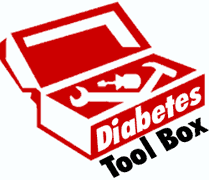 There are 5 choices that make a difference, according to this report by the Cardiovascular Health Study group.
First, the details.
4883 adults 65 years or older were monitored for 10 years.
Their lifestyle choices later in life were compared to their risk of diabetes mellitus.
Low-risk lifestyle included the following factors

Physical activity

Higher than the median: exercise more than half of the people in your age group
Leisure-time activity and walking pace

Dietary score

Higher fiber intake
Higher polyunsaturated to saturated fat ratio
Lower trans-fat intake
Lower glycemic index: ranking food by the speed it's converted from carbohydrates to sugar

Smoking

Never smoked
Former smoker more than 20 years ago or for fewer than 5 pack-years

Alcohol use
Obesity

Body mass index (BMI) less than 25
Waist circumference: 88 cm (34.6 inches) for women, 92 cm (36.2 inches) for men

Diabetes was defined as the new use of insulin or oral hypoglycemic drugs.
And, the results.
337 people were diagnosed with diabetes requiring drug treatment.
Each lifestyle factor was independently associated with a higher risk of diabetes
People cut their risk of diabetes by half when they were physically active and had good dietary habits.
Adding no smoking, and healthy alcohol habits lowered this risk 82%.
The absence of obesity (healthy waist circumference and BMI) lowered this risk another 7%.
The bottom line?
When elderly people follow healthy lifestyle choices as defined in this study, they could lower the risk of being diagnosed with diabetes by about 90%.
Here are the 5 life choices for older people that will increase or decrease their risk for diabetes later in life.
Physical activity
Diet
Smoking
Alcohol use
Obesity
And, there's no need to take drugs or CAM to achieve the benefits.
4/28/09 09:44 JR