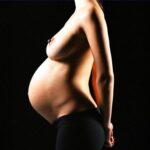 Researchers in Taiwan studied the effects of music on women in labor during of their first pregnancy.
First, the details.
60 primiparas expected to have a normal spontaneous delivery were randomly assigned to a treatment group.

Routine care + music therapy
Routine care only

The women used a visual analogue scale (VAS) to record their pain.
A nurse-rated behavioral intensity of labor pain.
Anxiety was measured with a VAS and finger temperature.
Pain and anxiety between groups were compared during the latent phase (2-4 cm cervical dilation) and active phase (5-7 cm).
And, the results.
Adding music to routine care resulted in significantly lower pain and anxiety, and a higher finger temperature during the latent phase of labor compared to routine care alone.
There were no significant differences between groups during the active phase.
The bottom line?
The authors concluded, "Music listening is an acceptable and non-medical coping strategy for laboring women. Especially… in reducing the pain and anxiety for women who are at the early phase of labor."
Overall, the results of studies of music (and other CAM options) during labor are contradictory.
Regional anesthesia (aka epidural) is the most efficient way to reduce labor pain
5/25/10 15:18 JR