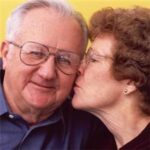 Apparently, many people would, according to this study by researchers at Boston University School of Public Health, in Massachusetts.
First, the details.
272 unaffected first-degree relatives of persons with Alzheimer's disease were studied.
The effects of knowing their genetic risk for Alzheimer's disease on health-behavior changes were recorded.
And, the results.
16% of all participants reported a change in dietary supplement use after an Alzheimer's disease risk assessment.
Participants who learned they had at least one copy of the epsilon4 gene (epsilon4+) were almost 5 times more likely to report a change in dietary supplement use vs those who did not have this gene after adjusting for age, gender, race, baseline supplement use, randomization arm, and educational level.

Epsilon4+ is a gene thought to increase the risk of developing Alzheimer's disease in old age.

There were no significant differences between APOE epsilon4+ and epsilon4- participants in changes in overall diet, exercise, or medications.
The bottom line?
So, awareness of risk tends to increase the use of supplements.
And this occurs in the absence of evidence that supplements prevent, delay, or in any way alter the risk of dementia.
5/29/10 15:28 JR