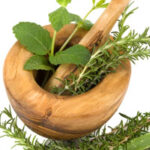 Researchers from the Mayo Clinic, in Rochester, Minnesota have listed drugs to avoid when taking tamoxifen (Nolvadex) to treat breast cancer, but they omit reference to herbal supplements.
A study from the University of Arkansas helps correct their oversight.
First, some background.
The benefit of tamoxifen to treat breast cancer is related to the activity of the liver metabolizing enzyme cytochrome P450 2D6 (CYP2D6), which is the key enzyme responsible for generating the potent tamoxifen metabolite, endoxifen.
Researchers at the University of Arkansas for Medical Sciences in Little Rock studied the effect of CYP2D6 on the metabolism of several herbal supplements and the risk of drug interactions.
Among the many herbals they studied, goldenseal (berberine) inhibited CYP2D6 significantly.
The bottom line?
This should not be interpreted as proof of a significant goldenseal-tamoxifen interaction. However, the risks of side effects from goldenseal and an interaction should be weight against its potential benefit.
Also, the results of this study are as important for identifying herbals with no effect on CYP2D6 as for the 1 herbal, goldenseal, that alters the activity of this CYP2D6.
5/22/10 15:09 JR