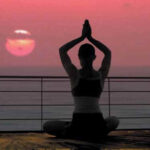 More than half of oncologists think that yoga might be beneficial, but research is scant.
Now, researchers at Children's Hospitals and Clinics of Minnesota, in Minneapolis, take a first baby step to fill that void.
First, the details.
On an inpatient hematology/oncology unit, 16 children and 5 adolescents, along with 33 parents participated in a single yoga session tailored to the needs and abilities of the patients and parents.
Sense of well-being pre- and post-class was measured with the Spielberger State Anxiety Scale.
And, the results.
Children had normal anxiety scores before the class, which didn't change after a single yoga session.
Adolescents and parents experienced significant decreases in anxiety scores.
Everyone gave positive feedback about the experience.
The bottom line?
It's surprising that a single yoga session had a significant meaningful effect based on any response that's specific to effects of yoga.
The authors concluded; "yoga is a feasible intervention for this population and is beneficial to adolescents and parents."
A PubMed search of "yoga," "cancer," and "pediatrics" revealed one article, which called for more research.
Last year, a broader review of 34 yoga studies on physical fitness, cardiorespiratory effects, motor skills/strength, mental health and psychological disorders, behavior and development, irritable bowel syndrome, and birth outcomes following prenatal yoga concluded, "Most published controlled trials were suggestive of benefit, but results are preliminary based on low quantity and quality of trials. Further research of yoga for children by using a higher standard of methodology and reporting is warranted."
10/11/10 19:55 JR