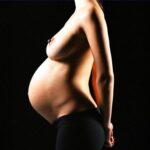 Researchers from Sweden and India evaluated the effect of acupressure during the active phase of labor on nulliparous (first pregnancy) women's ratings of labor pain.
First, the details.
212 women were randomly assigned to a treatment group.

Acupressure at acupuncture point spleen 6 (SP6) on both legs during contractions over 30 minutes
Light touch at SP6 on both legs for the same time
Standard care

Labor pain was assessed by visual analogue scale before treatment, immediately after treatment, and at 30, 60 and 120 minutes after treatment.
Labor pain intensity at different times after treatment was compared with before treatment.
And, the results.
Acupressure was associated with a significant reduction of labor pain vs standard care and light touch.
The response was most noticeable immediately after treatment.
The bottom line?
The authors concluded, "Acupressure seems to reduce pain during the active phase of labor in nulliparous women giving birth in a context in which social support and epidural analgesia are not available."
They continue, "the treatment effect is small which suggests that acupressure may be most effective during the initial phase of labor."
A summary of acupressure and other CAM options to manage pain during labor is here.
10/6/10 23:54 JR