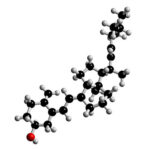 Researchers from the US and The Netherlands reviewed the evidence.
First, the details.
8 studies of vitamin D3 supplementation with or without calcium were assessed.
Data from 12,658 women were combined for a meta-analysis.
And, the results.
Compared to placebo…
Vitamin D3 + calcium supplementation significantly lowered the incidence of non-vertebral and hip fractures.
Vitamin D3 supplementation showed a 70% probability of being a better than placebo for preventing non-vertebral fractures, hip fractures, and non-vertebral, non-hip fractures.
Compared to calcium supplementation…
Vitamin D3 + calcium reduced non-vertebral fractures and non-vertebral, non-hip fractures.
It did not reduce hip fractures.
The bottom line?
The authors concluded, "Vitamin D3 with calcium appears to achieve benefits above those attained with calcium supplementation alone for non-vertebral and non-vertebral-non-hip fractures."
The two major forms are vitamin D2 or ergocalciferol, and vitamin D3 or cholecalciferol — known collectively as calciferol. Vitamin D3 is made in the skin when 7-dehydrocholesterol reacts with UVB ultraviolet light.
Recommended doses of vitamin D are discussed here.
3/29/10 21:21 JR