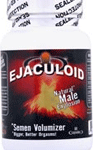 The FDA found that these dietary supplements contain sulfoaildenafil, similar to sildenafil (Viagra).
The inclusion of sulfoaildenafil as an  active ingredient is not FDA-approved, making these products unapproved drugs.
Neither sulfoaildenafil nor sildenafil are listed on the product labels. These drugs may interact with nitrates found in drugs such as nitroglycerin and lower blood pressure to dangerous levels. Consumers with diabetes, high blood pressure, high cholesterol, or heart disease often take nitrates.
The bottom line?
Customers who have ejaculoid XXTREME and stimuloid II in their possession should stop using them and contact their physician if they experience any problems that may be related to taking these products.
Healthcare professionals and patients are encouraged to report adverse events or side effects related to the use of these products to the FDA's MedWatch Safety Information and Adverse Event Reporting Program.
7/30/10 18:44 JR