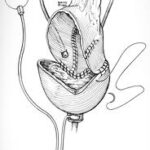 A diseased urinary bladder with low capacity and low compliance (ability to urinate) may require ileal enterocystoplasty (remove a part of the small intestine and attach it to the bladder to enlarge it and improve function [photo]).
Researchers at Hospital Foch, in Suresnes, France, studied a cranberry preparation with high levels of proanthocyanidin A (inhibits bacteria from sticking to tissue) to prevent repeated bacteriuria in people with an ileal enterocystoplasty.
First, the details.
15 patients who after enterocystoplasty had repeated urinary infection and/or the presence of bacteria in the urine (bacteriuria) were studied.
They received a cranberry (Vaccinium macrocarpon) preparation containing high levels of proanthocyanidin A (36 mg) once daily.
Absence of bacteria in urine culture was the main outcome.
In addition symptoms (pain, fever), continence, and upper excretory tract enlargement were monitored.
Each patient was their own historical control.
And, the results.
Patients were treated with the cranberry compound was about 33 months.
There was a significant decrease in the number of positive urine cultures during cranberry compound treatment.
The bottom line?
The authors concluded, "Treatment with a cranberry compound seems to be effective in reducing asymptomatic bacteriuria in patients with an ileal enterocystoplasty."
For this special group of patients the authors have identified a cranberry formulation and treatment regimen that's effective at lowering the risk of asymptomatic bacteriuria.
It would be interesting to study this cranberry compound in a broad range of people with bacteriuria.
More about asymptomatic bacteriuria can be found here.
7/30/10 20:58 JR