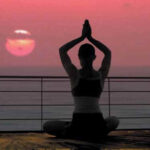 Swami Vivekananda Yoga Anusandhana Samsthana, in Bangalore, India reports their experience.
First, the details.
88 breast cancer patients were randomly assigned to a treatment group prior to 6 weeks of radiotherapy treatment.

Yoga, 60 minutes daily
Brief supportive therapy once in 10 days
And, the results.
There was significant improvement in positive affect, emotional function, and cognitive function, and a decrease in negative affect in the yoga group vs the brief support group.
There was a significant positive correlation between positive affect vs role function, social function, and global quality of life.
There was a significant negative correlation between negative affect vs physical function, role function, emotional function and social function.
The bottom line?
The authors concluded, "The results suggest a possible role for yoga to improve quality of life and affect in breast cancer outpatients."
Let's review.
Earlier in 2009, the same researchers reported that in the same patients, those receiving yoga experienced significant decreases in anxiety, depression, perceived stress, 6 AM salivary levels of cortisol, and average cortisol levels vs the brief support group.
Another group from Bangalore Institute of Oncology, in India reported that  study of 98 patients revealed that "yoga can be used for managing treatment-related symptoms and anxiety in breast cancer outpatients."
Several years ago researchers from UCLA in California published a comprehensive review of yoga for cancer patients and survivors. They concluded that based on the results form 9 studies, cancer patients and survivors experienced modest improvements in sleep quality, mood, stress, cancer-related distress, cancer-related symptoms, and overall quality of life.
11/28/09 16:49 JR