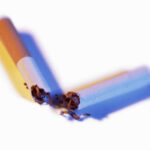 Researchers at Karolinska Institutet, in Stockholm, Sweden, studied whether a smoking cessation program, started during hospitalization, might reduce complications following emergency surgical treatment of fractures.
First, the details.
105 smokers with a fracture of a lower or upper extremity requiring acute surgery were randomly assigned to a treatment group.

Smoking cessation program started within 2 days of surgery, and followed for 6 weeks.
Control group

Patients in the program were offered 1 or 2 meetings with a nurse trained in smoking cessation plus regular telephone contact.
During the 6-week follow-up, patients were encouraged not to smoke.
Free nicotine substitution was offered to those who needed it.
The researcher was not aware of the treatment given — single-blind.
And, the results.
The proportion of patients with at least 1 postoperative complication was significantly higher in the control group vs the smoking cessation group (38% vs 20%).
2 or more postoperative complications were also significantly more common among the control patients.
Superficial wound infection, the most frequently recorded complication in both groups, were 20% and 8%–not significant.
The odds of having a complication were almost 3 times higher in the control group than in the smoking cessation group–not significant.
The bottom line?
The authors concluded, "A smoking cessation intervention program during the first 6 weeks after acute fracture surgery decreases the risk of postoperative complications."
The results are significant because until now it was believed that it was necessary to stop smoking prior to surgery in order to gain benefit.
6/5/10 19:16 JR