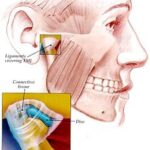 The temporomandibular joint (TMJ) is located on each side of your head in front of your ears, where your lower jawbone meets your skull. This joint allows you to talk, chew, and yawn.
To start, researchers at San Pablo CEU University, in Madrid, Spain reviewed the effectiveness of using acupuncture treatment for temporomandibular disorders (TMD).
First, the details.
4 studies were included in the review.
All compared acupuncture treatment to placebo.
And, the results.
3 studies described results that were statistically significant in relation to short-term improvement of TMD signs and symptoms of a muscular origin.
1 study reported no significant difference between acupuncture and sham acupuncture.
The bottom line?
The authors concluded, "Research into the long-term effects of acupuncture in the treatment of TMD is needed."
2 other reviews of acupuncture for TMD have been published this year. The conclusions are generally positive, but limited by poorly designed studies.
First, 2 researchers writing in the Journal of Orofacial Pain concluded there is "moderate evidence that acupuncture is an effective intervention to reduce symptoms associated with TMD." However, larger studies are needed.
In another broader review of treatment options for TMD, also published this year, researchers at Malmö University, in Sweden concluded, "There is some evidence that the following can be effective in alleviating TMD pain:"
Occlusal appliances
Acupuncture
Behavioral therapy
Jaw exercises
Postural training
Some pharmacological treatments
Evidence for the effect of electrophysical modalities and surgery is insufficient, and occlusal adjustment seems to have no effect.
However, a limitation of most studies, according to these authors, is the considerable variation in study design, which makes definitive conclusions impossible.
6/2/10 14:21 JR