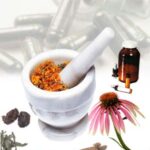 Little is known about the use of homeopathic products in children.
Now, the Avon Longitudinal Study of Parents and Children (ALSPAC), in the South-West of England, reports on the use of homeopathic products throughout childhood. And I try to compare these findings to prescription drugs.
First, the details.
More than 14,000 mothers enrolled in ALSPAC during pregnancy in 1991 and 1992, and the health and development of their children has been followed in ever since.
In this study, questions were asked about the use of homeopathic products 7 times from birth to 8.5 years of age.
Additional questions at 18 and 81 months asked about the conditions treated and at 81 months who had prescribed the HP.
And, the results.
12% used a homeopathic product at least once during the study.

Chamomile for teething and arnica for soft-tissue bruising were the most commonly used products.
The most frequently treated conditions included common self-limiting infantile conditions such as colic, cuts and bruises, and teething.

Parents were the most likely persons to "prescribe" homeopathic products for their children by the end of the study (46% of all "prescription" sources).

By comparison, general practitioners prescribed 10% of products.

Confusion about what constitutes a homeopathic product was present in nearly 10% of answers.
The bottom line?
The authors concluded, "The amount of homeopathic product use reflects a significant minority of the population who use complementary and alternative medicine treatments to manage the health of their family."
That might be true compared to other CAM, but what about compared to prescription drug use? I tried to compare these results to the use of prescription medicine. Not an easy task, but here we go.
About.com reports that according to the Medco 2010 Drug Trend Report, in 1 year, more than 25% of insured children in the US and nearly 30% of adolescents (10 to 19 year olds) took at least 1 prescription drug to treat a chronic condition.
Of course, not all children in the US are covered by health insurance. In 1 report, 15% of those younger than 18 years were uninsured. This doesn't mean that uninsured children never receive prescription drugs, although it's likely to lower their overall exposure.
So, if the ALSPAC data are accurate (and reflects homeopathic product us in the US, as well as in the UK), 12% of children in the UK are exposed to homeopathic products during childhood and adolescents. By comparison, about 25% of youngsters in the US are exposed to prescription drugs in just 1 year!
Accordingly, it appears that exposure to homeopathic products by youngsters is very limited compared to prescription drug exposure.
6/2/10 19:39 JR