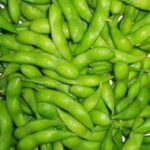 That's the conclusion from a long-term study by researchers in Florida and Oklahoma.
First, the details.
62 postmenopausal women with moderately high cholesterol levels were randomly assigned to take soy or control foods daily for 1 year.
Blood samples were analyzed for total cholesterol, LDL (bad) cholesterol, HDL (good) cholesterol, triglycerides, apolipoprotein (Apo) A, and Apo B.

Apolipoproteins bind to fats (Apo A is in LDL cholesterol and Apo B is in HDL cholesterol)
And, the results.
There was no change in total cholesterol, triglycerides, and LDL and HDL cholesterol levels after 1 year of soy protein supplementation.
There was a significant increase in Apo B levels and a significant decrease in Apo A levels.
The bottom line?
The authors concluded, "1-year soy protein supplementation did not confer cardiovascular benefits, in terms of favorable alterations in the lipid profile."
A review of 42 studies concluded that soy does have a positive effect on lipids.
The difference might be found in the duration of the studies. The lack of effects after 1 year would seem to be more significant clinically compared to a 12-week study summarized here.
3/11/10 20:56 JR