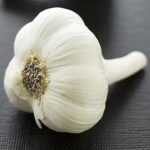 It's one of the best-researched, best-selling herbal remedies. But what do we really know?
Researchers from the University of Naples Federico II, in Italy reviewed the evidence.
First, here's what we know about (Allium sativum L.)
Garlic appears to be generally safe although allergic reactions may occur.
It's used to treat infections, wounds, diarrhea, rheumatism, heart disease, diabetes, and other disorders.
Experimentally, it has cholesterol-, blood sugar-, and blood pressure-lowering effects, as well as anticancer and anti-infective actions; it stimulates the immune system, and has blood sugar lowering actions.
In people, garlic has been evaluated as treatment for high blood pressure, hypercholesterolemia, intermittent claudication (cramp-like pain in the calf muscles), diabetes, rheumatoid arthritis, common cold, as an insect repellent, and to prevent arteriosclerosis and cancer.
The bottom line?
"However," the authors concluded, "the clinical evidence is far from compelling."
MayoClinic.com agrees and adds, "Multiple cases of bleeding have been associated with garlic use, and caution is warranted in patients at risk of bleeding or prior to some surgical/dental procedures. Garlic does not appear to significantly affect blood glucose levels."
3/10/10 22:40 JR